Movie
Beauty and The Beast | Lotus Five Star Cinema
April 09, 2017
Assalamualaikum :)
Jumaat baru baru ni FD tengok wayang dengan family. Gegirls sajo sebab abah tak minat benda camni. Abah sibuk dengan Forex malam tu. Kat Kuala Terengganu ni pula baru je bukak pawagam. Merasa la tengok wayang kat sini.
Mula mula pegi pukul 2 ke 3 petang camtu. Sekali tengok kat kaunter, gila weh. Beratur panjang sampai tiang ke tiga. Sangat sangat panjang. So FD decide untuk booking online. Website pulak macam hareeee. Slow nak mati and takbole nak booking. Rupanya server down. Bana dia. Sudahnya pergi tempat lain dulu settle apa yang patut and cari makan.
Pukul 9 malam macam tu pergi lagi kat LFS, line pendek je. Nasib baik. Tapi masalah seat pulak. Hampir full house kot. Sudahnya seat line ke dua. Depan screen sangat. Halahaii. Tengok je lah malam tu jugak. Nak tunggu hari lain entah bila.
2 kanak kanak, 2 dewasa. Kah! Kanak kanak lah sangat Darlina tu. Tapi cop 1 ticket je. Mekasih ye awak bagi kite save duit movie. Hehehe :'D
Synopsis:
An arrogant young prince and his castle's servants fall under the spell of a wicked enchantress, who turns him into the hideous Beast until he learns to love and be loved in return. The spirited, headstrong village girl Belle enters the Beast's castle after he imprisons her father Maurice. With the help of his enchanted servants, including the matronly Mrs. Potts, Belle begins to draw the cold-hearted Beast out of his isolation.
Jalan cerita ni ikut sebiji macam kartun. Watak Gaston tu kena sangat dengan muka pelakon dalam cite ni. Watak dia kira menjadi lah. So far cerita ni best. Cuma jangan tengok kalau tak minat banyak nyanyi ni. Semua fairytale memang ada nyanyi kan? Macam musical gitu. Kalau jenis taksuka, memang kau bosan lah tengok filem ni.
Mula mula jalan cerita tunjuk macam mana lelaki tu boleh brtukar jadi Beast. Memang nak furst dah sebab watak hero macam tak handsome! Hahaha. Serious tau, sebabnya dia makeup ye ye sangat. Eyeshadow, blusher and lipstick bagai. Nasib baik masa Beast bertukar jadi manusia balik tu muka dia not bad lah without makeup ni. Memang spoil lah kalau hero tak handsome kan :p
So moral dalam cerita ni don't judge a book by its cover. Walaupun takde rupa, still boleh jatuh hati kalau hati tu lagi cantik dari rupa paras. Gituuuu >,< and jadi manusia tu jangan sombong, berlagak. Dan cinta itu takboleh dipaksa ye sayang ;)
Few scene yang FD suka;
Dress Belle sangat sangat sangat cantik! ♥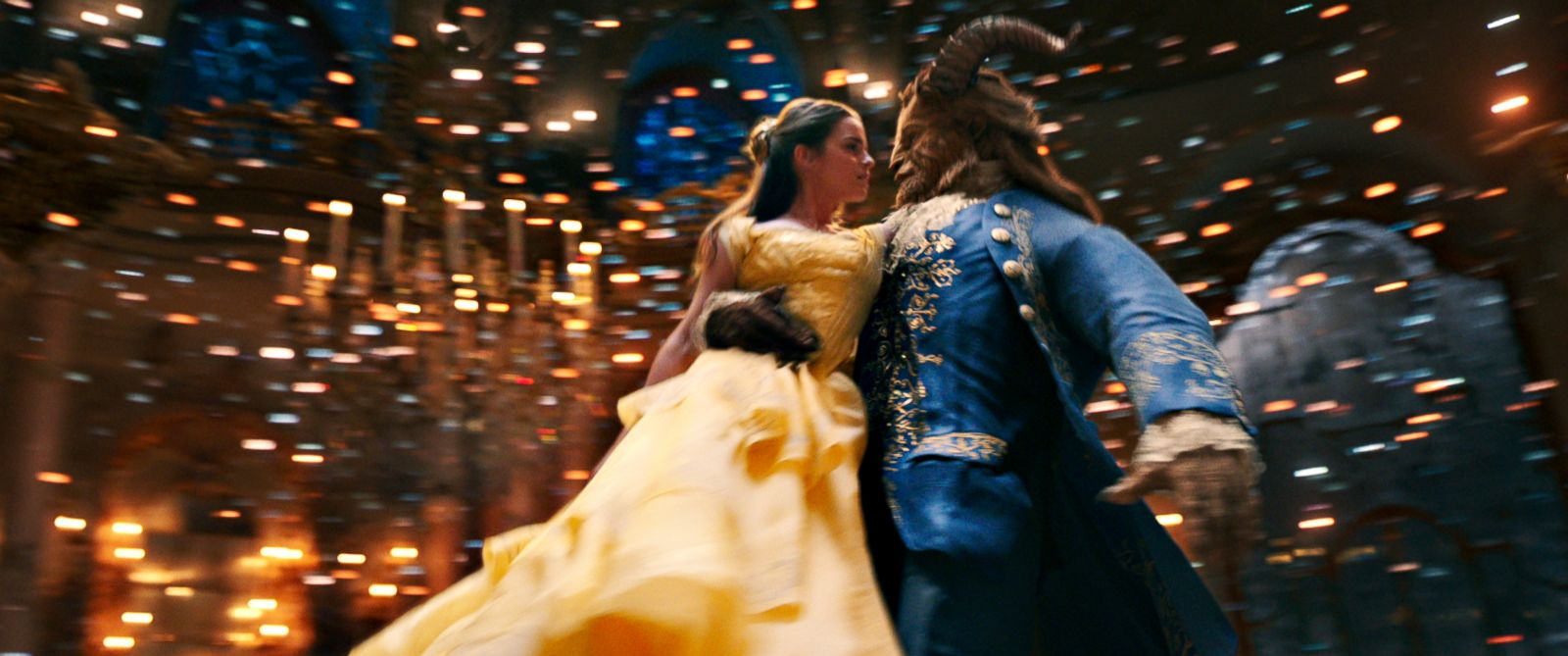 Scene ni FD suka sangat! ♥
Katanya cerita ni kena postponed sebabkan ada scene gay but I didnt see that in this movie. Entah pape lah yang buat movie ni tayang lambat kat Malaysia. Elok je cerita ni cuma part kissing je lah. Si lilin tu je kuat romantik dengan si bulus tu.
Btw, servis Lotus Five Star ni tak bagus sebenarnya. Staff kena alert tau. 5 minit atau 10 minit sebelum movie habis, kena lah prepare kat pintu keluar. Ni buat orang tertunggu tunggu. Daripada dok tahan sejuk dalam panggung, terus jadi hilang sejuk tu. Panas je rasa. Harap staff Lotus Five Star Cinema ni boleh kasi servis elok lah. Jangan nama je five star. Kesian jugak bila tengok budak kecik dok menunggu sama.